CMU's ChemE Web Site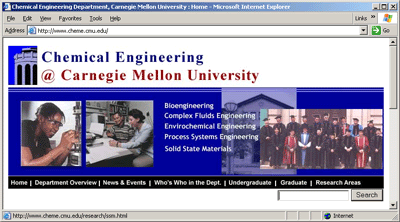 As one of the top Chemical Engineering (ChemE) departments in the world, CMU's ChemE Web Site needed a new look and a better integrated approach to recruiting students, providing information to current students, and promoting its achievements and programs to researchers and corporations. 8 Sharp worked closely with the department's head to create a redesigned site within a short time frame. Completed over the summer, the site was up and running in time to greet new students at the start of the school year. Feedback from professors, students and industry helped contribute to the new site design and information architecture.
A new 'fun' feature on the site includes a gallery of popular recruiting posters the ChemE professors have appeared in over the years. Each poster depicts a theme that the professors had to dress up and pose for. They've done everything from sporting Star Trek costumes to squeezing into tights and capes to pose as superheroes. You have to see it to believe it!
Learn more about our web development efforts, read about George Moving.